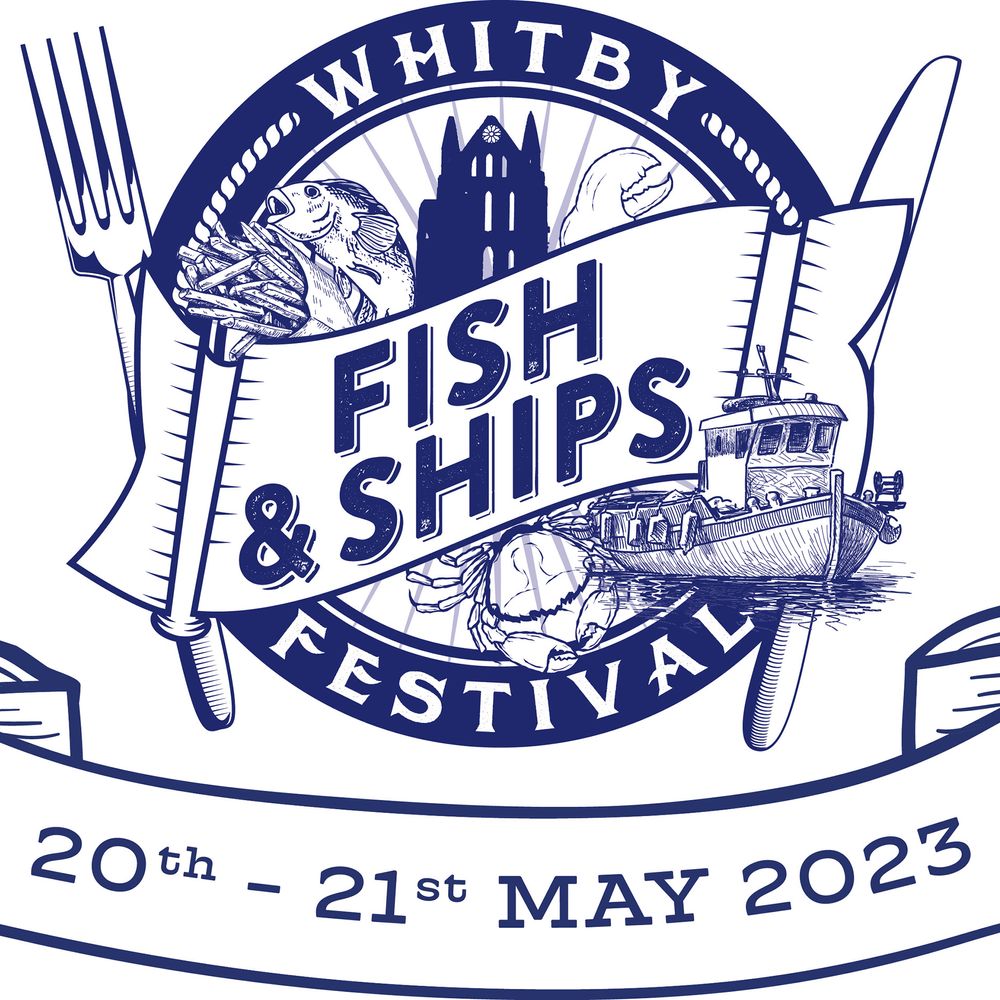 FISH & SHIPS FESTIVAL -WHITBY!
CELEBRATE WHITBY it's Sea Food Maritime HERITAGE and MUSIC OF THE SEA
Whitby Sea Festival are proud partners once again for this years event between May 19th and 21st.
Come and enjoy this FREE EVENT for all ages and watch seafood cookery demonstrations, or wander the local traders stalls.
You can visit the Music Stages at the Bandstand on Pier Road and Endeavour Wharf where you'll find the Main Music Marquee, the STORM Bar, and in the Great Cabin aboard The Endeavour, solo singers and small groups will be performing on the Saturday and Sunday. Consult the programme for times and details of the artists performing.
You'll also find a programme of activities for all ages in Whitby Public Library and the towns Museums.
Watch out for talks on Whitby's Whaling days by a local novelist and Sea Shanty Workshops on Endeavour , with Mel Langton and in the Public Library with The Keelers.
It all adds up to a great day or weekend out in Britains favourite Seaside town.
We look forward to seeing you there.
The performers so far confirmed include 
Auckland Shanty Singers - Beth Burrows - BOATHOOK BALD - Caedmon School Singers -                CARRIE MARTIN - Chris Milner - Esk Valley Concert Band - FLASH JACK  -  Fylingdales Folk Choir -         THE KEELERS - Hawsker Village Band -   JANIE MENEELY & ROB VAN SANTE -  Men of Staithes.          JOHN WARD TRIO -  Pavilion Pierrots   - Lynette & JIM ELDON - Roddy Gordon - ROGER SUTCLIFFE - RICHARD GRAINGER & CHRIS PARKINSON - Whitby Jazz Collective - LYNDA HARDCASTLE & ALAN ROSE - Maggie Gee - MEL LANGTON
FISH & SHIPS  2023          MUSIC PROGRAMME 2 
(at 12th May 23)

SATURDAY
Marquee Stage
11.00am -10.00pm
MC  Beth Burrows 
11.00    Richard Grainger, Keelers & Co with Caedmon School Singers
11.30    Roger Sutcliffe
12.15    The Keelers
12.55    Men of Staithes
13.30    John Ward Trio
14.15    'The Sea' by Antony Bellekom
15.00    Whitby Jazz Collective/ESK Valley Concert Band
16.00    Jim Eldon
16.30.   Beth Burrows 
17.00    Flash Jack
Interval
MCs Mel Langton & Chris Milner
19.00    John Ward Trio
19.40    The Keelers
20.20    Interval   
20.30    Richard Grainger and Chris Parkinson
21.15    Flash Jack

Bandstand
11.00am – 4.30pm
MCs Mel Langton & Maggie Gee
11.00    John Ward Trio
11.40    Flash Jack
12.20    Jim Eldon
13.00    Auckland Shanty Singers
13.40    Lynda Hardcastle & Alan Rose
14.15    Maggie Gee 
14.55    Roger Sutcliffe
15.30    Men of Staithes
16.00    Roddy Gordon Acoustic
Endeavour Experience – Great Cabin 
11.30am – 4.00pm
MC Chris Milner 
11.30    Chris Milner
12.00    Roddy Gordon Acoustic
12.30    Beth Burrows
13.00    Roger Sutcliffe
13.30    Mel Langton    
14.00    Jim Eldon
14.40    Auckland Shanty Singers
15.15    Lynda Hardcastle & Alan Rose
Library
14.00  Shanty Workshop with The Keelers  (+Jim Mageean's latest book)
SUNDAY
Marquee Stage
10.30am - 4.30pm
MCs Beth Burrows & Maggie Gee
10.30   Auckland Shanty Singers
11.00   Janie Meneely & Rob Van Sante 
11.40     The Keelers
12.10   Flash Jack
12.45   Hawsker Village Band
13.20   John Ward Trio
14.00   Fylingdales Folk Choir
14.35   Richard Grainger & Chris Parkinson
15.15   Flash Jack. 
16.15   ALL HANDS
 
Bandstand
11.00am - 4.30pm
MC Chris Milner &Kevin Young
11.00   Chris Milner 
11.30   Roger Sutcliffe
12.00   Jim Eldon
12.30   Pavilion Pierrots
13.00   'The Sea' by Antony Bellekom
13.40   Roddy Gordon Acoustic 
14.20   Pavilion Pierrots
15.10   Auckland Shanty Singers
15.40   Janie Meneely & Rob Van Sante
 
Endeavour Experience – Great Cabin
10.30am – 4.00pm
MC Mel Langton
10.30   Mel Langton 
11.00   Roddy Gordon Acoustic
11.30   Boathook Bald
12.00   'Mary Roberts' – by Antony Bellekom
13.00   Lynda Hardcastle & Alan Rose
13.30   Roger Sutcliffe
14.00   Beth Burrows
14.30   The Keelers 
15.15   Jim Eldon